A stronger commitment to service and protection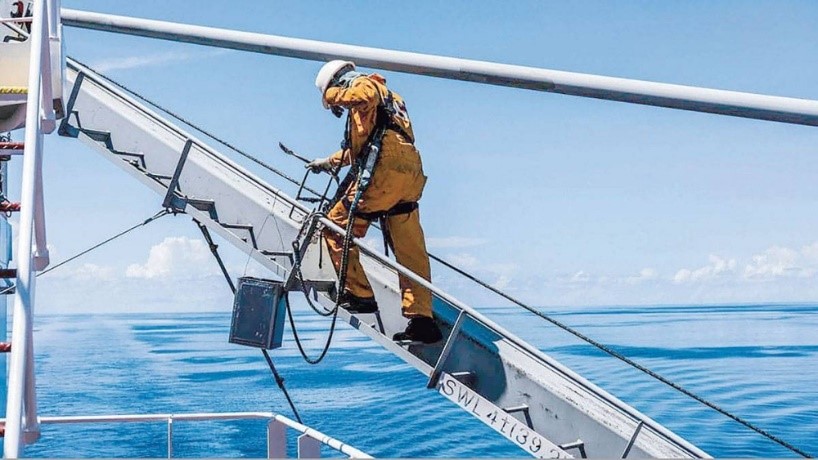 As published by The Manila Times on June 29, 2022
Fancy photos of world travel, lucrative dollar wages and dapper uniforms. These are only some of the typical images of a seafarer that are branded in the minds of society.
Behind all these tip-of-the-iceberg facts, however, is a person who goes through a life of hardships and sacrifices, sails through storms and towering waves, and braves misery and isolation to power world trade and transportation.
Unbeknownst to many, seafarers are deeply rooted in the daily lives of people and world economies.
The #NoShippingNoShopping campaign of the Stella Maris Scalabrinian network states that seafarers move about 90 percent of the world's goods. They man ships that function as the arteries of global trade that, even during the pandemic, continued to flow around the world.
Food items, clothing, technology, fuel, automobiles and many other logistical necessities that were manufactured in various nations reach distant shores because of the seafarers — many of whom are Filipinos.
The Philippines has been the world's main supplier of seafarers since 1987, according to the Philippine Overseas Employment Administration. Filipino workers make up more than 25 percent of the 1.9 million mariners in the world.
Had it not been for their competence and sacrifices, it was said that the global trade would come to a standstill and people would be devoid of their necessities at the height of the Covid-19 pandemic.
This reality and level of accomplishment have urged the International Maritime Organization (IMO) to launch the Day of the Seafarers in 2011 to focus the public's attention on the contribution made by seafarers to the entire global community.
This 2022, the Day of the Seafarers campaign runs with the theme "Your voyage — then and now, share your journey." It looks at seafarer voyages, what it includes and how it evolves, and what remains at the heart of seafarers' reality.
This campaign also gives seafarers a chance to share what resonates with them currently, whether it's the crew change crisis being unresolved or the future of technology.
In his message, IMO Secretary-General Kitack Lim affirms: "Without seafarers, there would be no shipping, and this day, every year, gives us a chance to recognize and pay tribute to seafarers everywhere, whatever their voyage."
"After two years, the Covid-19 pandemic still presents a challenging working environment, with continuing difficulties in conducting crew changes, and gaining access to medical care and shore leave. IMO continues to urge States to support seafarers by designating them as key workers, so that every seafarer's maritime journey can move into smoother waters. On this Day of the Seafarer, we also look to the future. New technologies, new equipment and the need to make shipping greener will provide new challenges and opportunities," Lim said.
"I am sure you will rise to those challenges and pave the way for more sustainable shipping in the years to come," he added.
Philippine maritime industry honors seafarers
As a tribute to the maritime industry's main players, stakeholders from various maritime sectors honored and cheered the seafarers on.
Foreign Affairs Secretary Teodoro Locsin Jr. said this year's theme "is particularly appropriate for a country now considered both the largest source of both officer and rating seafarers in the world and global social media capital."
"Seafarers demand peculiar attention and extraordinary recognition. Their experiences and challenges are unique to their dangerous and demanding industry, which most of us are unlikely to undergo as we lead our daily lives almost entirely on land. Seafarers face the risk that is inevitable given the natural circumstances of shipping and maritime work, and those that proceed from the frailty of human judgments and processes," he said.
Locsin added that to protect the seafarers, especially during the pandemic, the government took proactive steps to respond to challenges such as classifying maritime workers as essential workers, thereby prioritizing them for vaccines, movement within borders and priority in government services.
"The invaluable contribution of seafarers to our country begets recognition not only in terms of platitudes but also in terms of actual good service," he said.
Meanwhile, Maritime Industry Authority (Marina) Administrator retired Vice Admiral Robert Empedrad reiterated that the government will continue serving Filipino maritime professionals. He also assured seafarers that Marina remains committed to providing selfless service and pilot programs for the maritime industry.
"We will serve you as well, sacrificially. Never again will you take courses that are not required by the Convention. Never again, will you go to the Marina office and be treated with contempt. You will be treated with importance. Never again will Marina get involved with fixers. We will, as long as I am your Administrator, make service our primary concern," Empedrad said.
Manning sector
Prominent maritime industry leaders have also expressed their appreciation and support to Filipino seafarers.
Among these is lawyer Iris Baguilat, president of Döhle Seafront Crewing, the Philippine crewing arm of Germany-based Peter Döhle Group, one of the leading providers of shipping services worldwide and employs thousands of Filipino seafarers.
"For more than a decade, we celebrate the 'Day of the Seafarer' every June 25 to raise awareness about the issues seafarers face and how their contribution matters to humanity. However, the pandemic showed us that while the Philippines is considered a maritime giant — supplying the greatest number of seafarers to the world fleet – the people outside the maritime industry remain to understand only a fraction of the glories and hard work of our industry's lifeblood — the seafarer — account for.
"To our economy, seafarers account for some $6 billion worth of remittances. To everyone else, they are the workforce responsible for transporting 90 percent of raw materials and goods that make up our daily necessities such as fuel that translates to energy, grains that translate to food, and so much more. To their families, they are heroes who have to leave them behind to make a living.
"While we fulfill our duties as a manning agency to protect and ensure the employment of Filipino seafarers, our company, Döhle Seafront, and our allies such as the ALMA Maritime group, also diligently pursue efforts to continuously echo the unrecognized values of seafaring – particularly to the non-maritime population and the government. We need them to understand why this workforce needs protection; why certain issues and dilemmas require extra attention; and why we cannot neglect and forego seafaring that is rooted in our ancestry.
"As we celebrate the 12th Day of the Seafarer; we call out to everyone to share their voice and help us echo our cause until seafarers are no longer only called modern-day heroes, but also given the importance and attention as one. No one else could do this for them but ourselves.
"To all the seafarers, we celebrate you loud and proud on the Day of the Seafarers. We thank you for your diligent work and hope for your safety and safe return to your families. Trust that we at Döhle Seafront proactively pursue and sail the extra mile to protect your rights, employment, and our position as a maritime giant in the world fleet," Baguilat said.
Seafarers' union
The Associated Marine Officers' and Seamen's Union of the Philippines (Amosup), the country's oldest and most prominent seafarers' union, also expressed its wholehearted support to the Filipino seafarers.
In his message, Amosup President Dr. Conrado Oca said that "the union values hard work, sacrifice, and tremendous contributions to our country. We recognize your role in moving the global supply chain and transporting essential goods across the world.
"Hence we commit to continue promoting your rights, welfare, and social protection, and ensure that you are empowered to be exceptional and world-class seafarers," Oca said
Maritime training and education
Far East Maritime Foundation Inc. (Femfi), one of the pioneering and biggest companies in maritime training paid tribute to the Filipino seafarers.
"We honor all our seafarers who are not only part of the economy's lifeblood but also represent our country and the Filipino families they work hard for. Calling them our modern-day heroes is an understatement.
I consider them part of the Philippine Heritage. Their world-class excellence in their craft is indeed our pride," says Rommel "Bong" Pineda, chief marketing officer of Femfi.
Meanwhile, Dr. Glenn Mark Blasquez, vice president for Operations and Marketing Director of the Manila-based training center, Southern Institute for Maritime Studies (SIMS), greeted the seafarers for their courage and sacrifice.
"Mabuhay po kayo minamahal naming mga marino! Happy Seafarers Day din sa lahat ng mga masisipag, mapagmahal at matatapang na marino saan sulok man sa mundo. Saludo kami sa inyo," he said.