Passing the torch to next-generation seafarers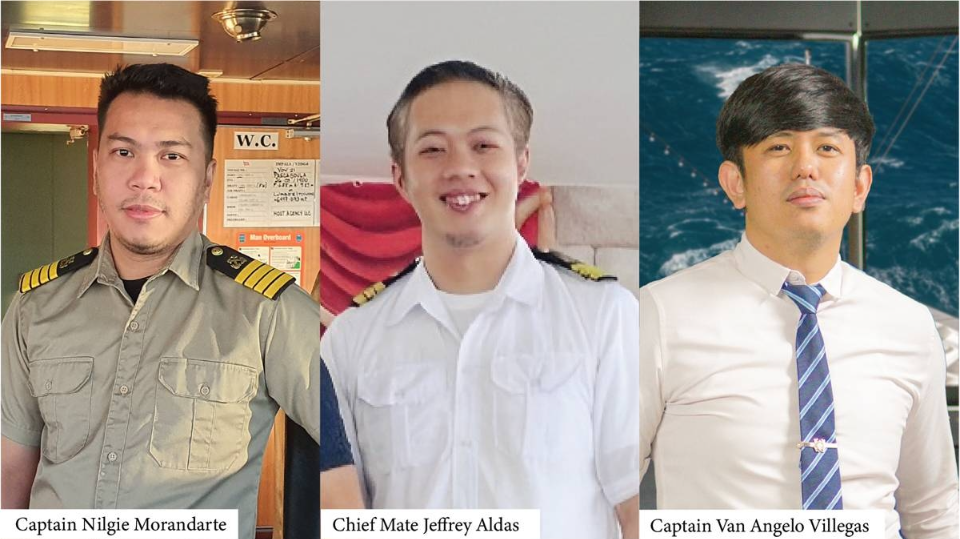 As posted by The Manila Times on June 25, 2023
Gone are the days when seafarers were solely defined by their seafaring roles. In today's digital age, connectivity has removed barriers, allowing a new generation of seafarers to unleash their passions and maximize their potential.
Some seafarers have embraced digital platforms to share insights about life at sea, making previously elusive information accessible to the public.
Meanwhile, experienced seafarers are passing the baton to the younger generation, ensuring the emergence of skilled and adaptable professionals ready to tackle the evolving maritime industry.
Capt. Nilgie Morandarte, Chief Mate Jeffrey Aldas, and Capt. Van Angelo Villegas are among these seafaring mentors. Through their work, they are actively shaping the future of the maritime profession, fostering a new wave of competent individuals prepared to navigate the complexities of seafaring.
Helping others shine
"I have been with Döhle Seafront for quite a long time, and it has been incredibly fulfilling for me to witness the progress of the cadets under my guidance. Some have already transitioned into officers, while others are well on their way towards achieving that milestone"; Captain Nilgie Morandarte, 33, shares, reflecting on his role as a mentor and training instructor.
Morandarte's passion lies in teaching and assisting the younger generation of sailors in finding success within the seafaring profession. He believes in maintaining this goal both onboard, as a management-level officer to his crewmates and cadets, and ashore, as a training instructor.
" I always instill in them the importance of looking forward, not only to the next rank but beyond it. They should always be prepared for opportunities that may come their way, so they don't miss out", he emphasizes.
Although seafaring was not his initial career choice, Morandarte reveals that teaching had always been his aspiration. However, being exposed to instructors who were also seafarers inspired him to embrace the Marine Transportation, as he realized he could combine his passion for education with the seafaring profession.
In 2009, Morandarte became part of the inaugural batch of cadets in Döhle Seafront Crewing (Manila) and steadily climbed the ranks until achieving the esteemed position of captain in 2023.
"To succeed, one must possess perseverance, determination, and focus. It is crucial to maintain these three qualities and hold them together, ensuring that you stay on the path towards achieving your goals," Morandarte advises, speaking from his own experience.
Starting Them Young
Chief Mate Jeffrey Aldas, 36, plays a unique role in the education sector as a coordinator for Adopt A Ship International. This non-profit organization aims to raise awareness about the seafaring profession by establishing connections between seafarers and grade school students.
Through the Adopt A Ship program, schools 'adopt' a ship, fostering a relationship between students and seafarers. The initiative promotes maritime awareness within the community about the significance of seafaring in everyday life while integrating geography and general seafaring knowledge into the curriculum.
Introduced to the Philippines by International Maritime Organization (IMO) Goodwill Ambassador George Hoyt, the program involves a 10-week information exchange between management-level seafarers from selected manning agencies and elementary schools, specifically in Social Studies.
Aldas was drawn to the Adopt A Ship program due to his desire to bridge the gap between land-based communities and seafarers. He finds joy and fulfillment in witnessing students enjoy the program, asking intriguing questions, and developing a sincere appreciation for the contributions of seafarers to the world.
Pursuing passion beyond seafaring, he said, doesn't require a grand plan or a roadmap. It involves making daily conscious decisions aligned with one's values and beliefs and engaging in activities that bring joy and fulfillment.
"Passion takes many forms, but the key is the dedication, immersion, energy, and purpose it brings", shares the Leyte-born seafarer.
He believes that leaving a memorable impact on people's lives doesn't always require grand gestures. Often, small acts of kindness, support, and understanding leave the deepest impressions.
Riding the Changing Tide
"I never thought I could do it until I took the first step and did it".
Capt. Van Angelo Villega's path to becoming a captain, professor, and director of the Simulator Center at the Maritime Academy of Asia and the Pacific (MAAP) in 2022 is a testament to finding success amidst life's unfolding journey.
Initially entering the maritime profession out of necessity, Villegas developed a deep love for it while learning as an apprentice onboard.
He enjoyed the challenges and learning from them and this passion drove him to provide the same experience to the cadets he now teaches.
Villegas joined the faculty of MAAP in 2017, finding fulfillment in sharing his knowledge with aspiring seafarers. With the onset of the pandemic in 2019, he decided to dedicate himself to full-time teaching while also starting a family.
"I initially thought teaching would be more challenging than seafaring, but I eventually found it incredibly fulfilling — especially when students express their gratitude and demonstrate that they truly learned something," he added.
While Villegas acknowledges that there are still many adventures awaiting him at sea, his current focus lies in teaching and imparting his knowledge to future sailors; and improving systems, operations, and simulator training delivery at MAAP.
For Villegas, learning is a lifelong pursuit, not just for his cadets but also for himself as he pursues a master's degree in the marine superintendency.
When asked for advice to aspiring cadets pursuing their dreams and passions, the 31-year-old director shares, "Be brave and take the first step. Until you take that initial leap, all possibilities remain hypothetical. Whether entering a new profession or pursuing your aspirations, the first step is crucial. If it's the right path for you, great! If not, you'll always have the fallback of the sea — just take another first step."
https://www.manilatimes.net/2023/06/25/supplements/passing-the-torch-to-next-generation-seafarers/1897624