A step toward Bohol recovery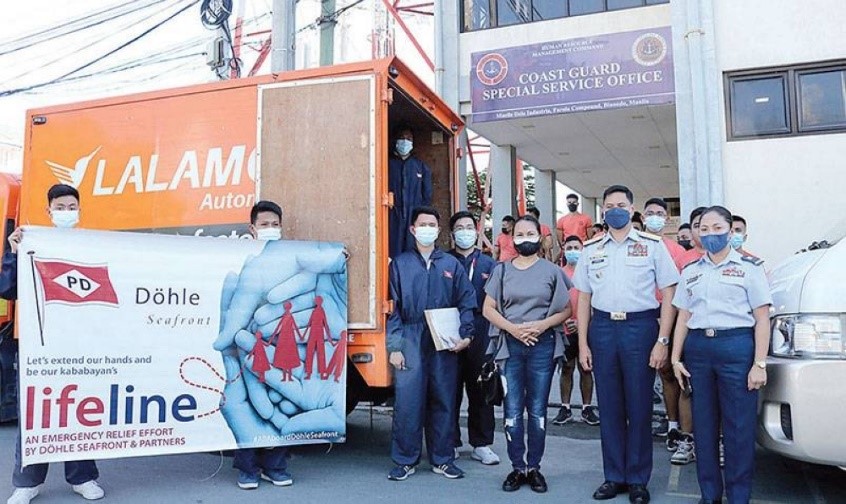 As published by The Manila Times on March 29, 2022
The recipe for a true and stereotypical Filipino would not be complete without "resilience" — a distinct characteristic among Filipinos.
Super Typhoon Rai, named "Odette" by Philippine Atmospheric, Geophysical, Astronomical Services Administration (Pagasa), entered the Philippine Area of Responsibility on Dec. 14, 2021. More than 2.3 million families have been affected.
Following its wrath right before Christmas, a total of 406 casualties were recorded. Nearly 1.4 million houses were damaged; 345,254 of them were rubbled. The supposedly happy season was not celebrated by the 379,378 displaced individuals who had no roof to live in and no home to protect them from the ongoing pandemic.
Embodying the spirit of Christmas, Dohle Seafront Crewing (Manila), together with its partners, proactively opened its hands and offered assistance to the heavily inflicted families in Bohol. The island province's access to basic goods and necessities such as potable water, electricity and even signals for communication had become extremely scarce since the passing of the storm.
With no hesitation, parent company Peter Dohle Schiffahrts-KG donated financial aid that translated into 4,472 kilograms of rice, 8,400 canned goods and 10,240 packs of instant noodles. This is on top of the cash aid given to crew families whose homes were damaged.
All the cash and in-kind donations, which totaled 4,060 relief bags, were distributed per household in two separate relief drives from Dec. 28, 2021 to Jan. 1, 2022; and Jan. 21 to 25, 2022.
In summary, industry partners Associated Marine Officers and Seamen's Union of the Philippines (Amosup), St. Giles Makati, Windsor International Maritime Clinic Inc., Sapalo Velez Bundang and Bulilan Law Offices, and Shiphealth Inc. in-kinds summed to 4,318 canned goods.
Benedict Safetywear, another Döhle Seafront supplier, also sent 840 bottles of 1L water, 1,687 canned goods and 108 packs of instant noodles while La Belle Residences reached out with 1,569 bottles of 1L water.
Crewmembers from M/V Leto, M/V Dream and M/V Artemis also proactively offered donations that were translated into 6,084 packs of instant noodles and 910 kg of rice. Members of the Brawner clan from Nueva Vizcaya — Capt. Libbie Brawner, Dr. Cynthia Brawner, Dr. Josie Brawber, Maggie Brawner-Martin and Dr. Jane Brawner — donated 549 bottles of 1L water and 894 canned goods
The items were sent to Bohol through the kind support of the Philippine Coast Guard.
Döhle Seafront President lawyer Iris Baguilat herself ensured coordination and delivery of relief items gathered in Manila to Bohol through ships of the Philippine Coast Guard.
While many of those affected by the disaster remain in need, Dohle Seafront's volunteers worked around the clock to reach as many houses as possible.
"We hope that our relief efforts may serve as a lifeline for their recovery and that 2021 Christmas will be remembered not only for the damages caused by Odette but also for the generosity exhibited by our fellow kababayan and partners," Baguilat said