Career Paths: Iris Baguilat, Döhle Seafront Crewing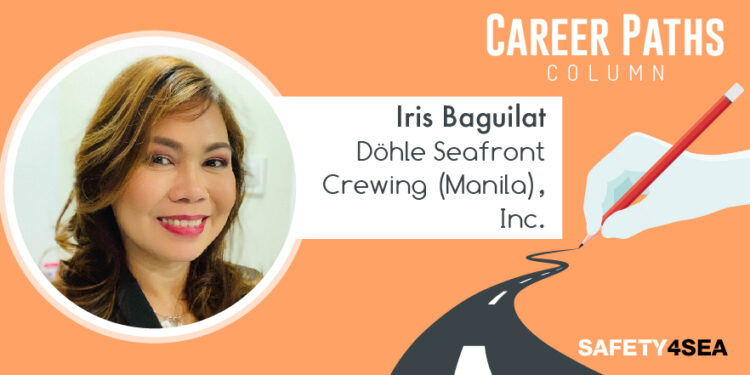 As published by Safety4Sea on June 7, 2021
SAFETY4SEA: In our special column, we are glad to host an interview with Lawyer Iris Baguilat, President, Döhle Seafront Crewing (Manila), Inc. who, in the pandemic, managed to achieve inner peace and focus on the moment as well as she acquired new skills that never thought it would be possible.
Baguilat also explains how she joined the maritime industry, highlighting that since then, she continues her battle in the unjust and unfair crew claims in the Philippines, since not all maritime stakeholders have the responsibility to address it, especially the ship owners.
SAFETY4SEA: How did it come about that you joined the shipping industry and your field of expertise specifically?
Iris Baguilat: I am a lawyer by profession. After five years of practice, I found the need for a niche and took up my Master of Laws in Marine and Environmental Law at Dalhousie University in Canada as a full scholar. As a legal practitioner, lecturer, and consultant, I was primarily dedicated to updating and improving shipping laws in the Philippines.
S4S: What about your current job/ role most excites you and why?
I.B.: As the president of Döhle Seafront Crewing (Manila) Inc. and an alumna of the University of the Philippines, I center my work to holistically approach nation-building as well as creating and sustaining sea-based jobs for Filipinos and influencing change. I am also a trustee in the Maritime Lawyer Association of the Philippines and ALMA Maritime Group, the latter I co-founded and incorporated, which echoes my goal in proactively responding and mitigating maritime issues and concerns, especially when it comes to the welfare of our stakeholders.
S4S: Who is/was the most influential person/mentor to you & why?
I.B.: I am a result of a confluence of mentors and I have learned so many things from them; most notably, the importance of having a sense of divine purpose – understanding that my existence is not an accident and knowing that I have a mission to fulfill. This is what leads me to excel in my craft and fields of expertise while always keeping others in mind in the process.
S4S: What is the most worthwhile career investment (in energy, time, money) you've ever made?
I.B.: My primary career investment has to be with my family and spiritual life. These are the anchors that give me a sense of purpose and allow me to do my job. Next is my intelligence and know-how. I heavily volunteered in many policy works, even if it was unpaid and required a lot of effort and focus, to expand both my knowledge, expertise, and network Lastly, I invested in my strengths. One of which is strategizing: creating and turning big ideas into reality through detailed execution. I am also very intuitive. This allows me to gauge people with accuracy, know where they are good at, and put them in the right roles.
S4S: The best piece of advice you can give?
I.B.: The best piece of advice I can give is to find your purpose, and work intensely hard while maintaining your peace.
S4S: If you could give a piece of advice to your 18-year-old-self, what would it be and why?
I.B.: I would tell myself to be brave and not be always anxious. Growing up, I had a lot of fears. I was always afraid of failing. I didn't have peace within myself – it was something I've only attained in my later years as an adult. I learned that to achieve my Zen, I have to focus on the moment. I no longer mentally multi-task and give 100% of myself on what I do at that exact time. Once my mind starts to wander, I find myself overwhelmed with the many tasks and things that need to be done. That's when I get agitated and lose my peace.
S4S: In the last five years, what new belief, behavior, or habit has most improved your business life?
I.B.: Being able to achieve inner peace and laser focus improved my business life. As I have mentioned, I avoid thinking about too many things at a time and focus on what I need to do and think about at the moment. Another thing I realized is the extent of flexibility of our mind's capacity. Right now, in the pandemic, I have taught myself new skills and was surprised to see that it is possible – to learn and excel in new things, again, and not be stuck with what you are good at before.
S4S: What would you like to change in the current maritime landscape and your area of expertise specifically and why?
I.B.: My biggest battle remains to be in the unjust and unfair crew claims in the Philippines. Not all maritime stakeholders have the responsibility to address it, especially the ship owners.
S4S: What is your motto?
I.B.: "To laugh often and love much; to win the respect of intelligent persons and the affection of children; to earn the approbation of honest citizens and endure the betrayal of false friends; to appreciate beauty; to find the best in others; to give of one's self; to leave the world a bit better, whether by a healthy child, a garden patch or a redeemed social condition; to have played and laughed with enthusiasm and sung with exultation; to know even one life has breathed easier because you have lived—this is to have succeeded." ― Ralph Waldo Emerson