Still preferred!
Maritime veterans explain why Filipinos are still no. 1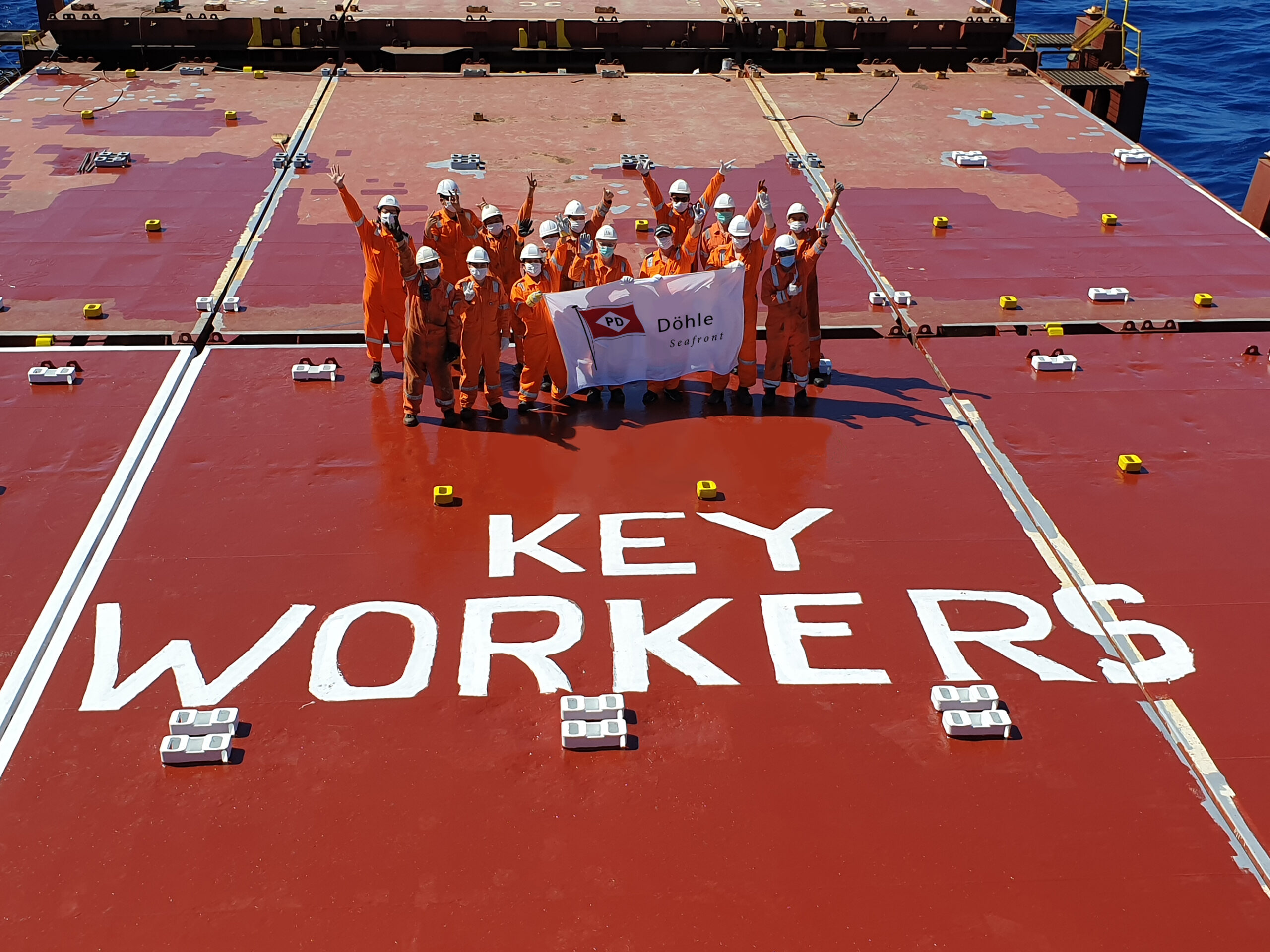 By Rainiel Cruz | Photography by Joemar De La Pena | As published by The Manila Times on the Day of the Seafarer, June 25, 2021.
Just by the sheer volume of the Filipino seafarers sailing international waters, there is no question why the Philippines is a maritime giant dubbed as the manning capital of the world.
However, with COVID-19's spread, the competition among maritime nations has transformed into a race of which country can keep up with the minute-by-minute changing protocols for a crew change, and who can create a deployable pool of vaccinated seafarers.
Despite this, maritime stakeholders are optimistic that the Filipinos' position in the world fleet remains unshaken, and that the workforce continues to be the top choice of shipowners and principals to man their vessels.
No other seafarers, but Filipinos
"Filipinos remain to be preferred by foreign shipowners and principals," attests the Maritime Industry Authority (Marina) Administrator Robert Empedrad,
Empedrad, who had met with Greek, Japanese, and European principals, among others, states that shipowners "confidently say that they want to employ Filipino Seafarers." One shipping giant was even firm that it "will employ no other seafarers but Filipinos."
Lawyer Iris Baguilat, president of the German-owned crewing firm Döhle Seafront Crewing (Manila) agrees, expressing that other than the latent skills of Filipinos in seafaring, it is their natural affinity to sailing that gives them an advantage.
"Living in an archipelago, shipping is innate among Filipinos. Even I, whose grassroots weren't from maritime, found my way towards the industry as I watched ships come and go at our ports in my island province of Bohol," she shares.
To put this into perspective, some maritime veterans, who had seen their fair share of life at sea working with other nationalities, expressed their thoughts as to why Filipinos are still preferred despite the adversities.
Solutions-driven: 'Diskarteng Marino'
"Diskarteng Marino", a Filipino idiom that translates to "the way of a seafarer" and used to talk about finding solutions, was based on a Filipino seafarer's trait of always being driven in looking for ways to get things done, no matter how hard, and sometimes, even, no matter the cost.
A 2011 Safety4Sea report says that Filipino seafarers "display ingenuity in dealing with problems."
This gives shipowners some sense of confidence that their ship and the ship operations are well taken care of, once Filipinos are onboard.
Resilient and family-oriented
Master mariner Joel Ayos, who now works as a manning executive at Döhle Seafront, knows for a fact that Filipinos are resilient. According to him, unlike other nationalities, Filipino seafarers can take in all the pressure that comes with their work and manage to perform their tasks prolifically in a 12-month contract without complaining.
"Sanay tayo sa hirap (we are used to the hardships)," he notes, explaining that Filipinos are enduring and able to focus on their goals, even when inflicted with strong emotions, as long as given the right motivation – most often, it's their families.
The Marina Administrator has the same take on this subject. Empedrad states that "during the pandemic, many Filipino Seafarers had extended stay at sea; some up to 16 to 18 months, but they continued to do well." He even received positive reports from shipowners commending the resilience of their Filipino crew.
Productive and skilled
"They are also industrious which is a reflection of who we are as a Filipino," notes Empedrad, who had served as a naval captain to five warships during his military service.
"I saw how clean and orderly my ships were because my shipmates were very hardworking. They don't want to leave the ship, not in ship-shape condition," he adds.
Capt. Edgardo Flores, the owner's representative and General Manager of the Greek-owned Eastern Mediterranean Manning Agency Inc. affirms this, saying: "give a [Filipino] captain an old vessel, and he will turn it into a new ship."
"Magaling tayo mag-maintain ng barko (We are good in maintaining vessels)", he shares, further noting that Filipinos excel in the practical management of the ships.
Adaptive and competent
On the other side of the coin, Flores said that, back in the day, many Filipinos used to find the commercial management aspect of shipping problematic. But with the advent of electronic mails onboard, support from the land-based sector became accessible and Filipinos started to take up more management roles at sea.
On the same note, MARINA's Officer-in-Charge at the Office of the Deputy Administrator for Planning, Capt. Jeffrey Solon shares: "Filipino seafarers are well-known to be highly trainable, easily adapt to changing environments, and competent."
While other nationalities become seafarers after a 2-year course, Filpino seafarers are baccalaureate graduates. After taking the 4-year course, they still undergo short courses to enhance their skills and technical knowhow to be more competent.
The happiest crew onboard
Filipinos find reasons to smile and be positive amid adversities.
According to the last SAFETY4SEA Crew Wellness Survey, Filipino seafarers are "the most satisfied seafarer group by nationality serving onboard ships" and "the difference with the other nationalities was so wide that it could lead us to assume that there is a correlation between nationality and happiness onboard."
"Who wouldn't want to work with the nationality that is most known to be the happiest crew members? When you are in the middle of the sea, this Filipino trait comes in handy and truly makes most of our seafarers stand out from the rest," affirms Solon.
A legacy challenged
Among other traits such as being relationship-driven and practical, loyal, and good in English, these are just some of the characteristics that gained the trust and confidence of foreign principals – a profile of Filipino seafarers created by a generation of maritime veterans that has now become pillars of the industry.
However, while the demand for Filipino crew remains to be significantly high, Anglo-Eastern Tanker Crew Management Philippines Director Chief Engineer Jessie Martin warns that the number of Filipino seafarers being deployed in the last recent years progressively declined even before the pandemic.
In 2017, the Philippine Overseas Employment Administration (POEA) reported that a total of 64,748 Filipino seamen lost their jobs. And, it continued to dwindle to 111,961 in 2018.
"This means that some positions previously held by Filipinos have already gone to other nationalities like the Indians, Ukrainians, and Indonesians," Martin points.
Now, the responsibility of keeping the Philippines' legacy falls into the hands of the new generation of mariners: to continue the strong foundation the industry had and keep Filipinos as the top-of-mind-choice for seafarers, or build on it and make it better.