Döhle Seafront honors retiring long-time crew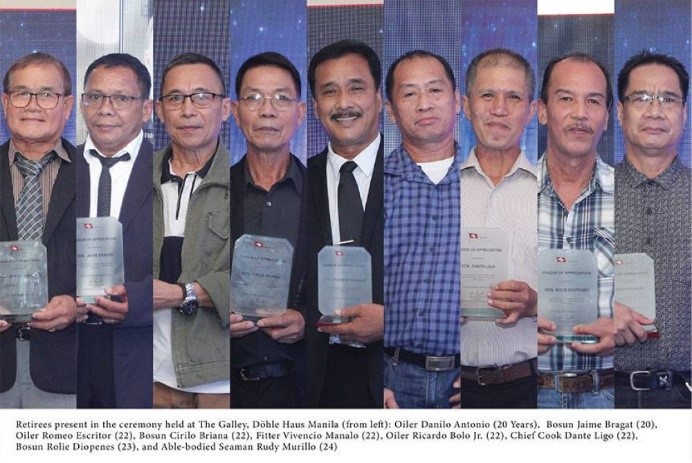 As published by The Manila Times on November 02, 2022
Twenty-four Filipino seafarer retirees were honored by Seafront Crewing (Manila) Inc. in time with its 40th celebration of strong ties with Germany-based shipping giant Döhle Group.
"This celebration is symbolic not only to the retirees but also to our long partnership with our parent company — their unending trust, loyalty to our shore and sea-based partners, and the continuous employment they bring to our maritime community," Döhle Seafront President Iris Baguilat said.
The honorees served the group for more than two decades.
Ten were able to attend the ceremony held last October 28 at The Galley, 2/F Döhle Haus Manila, Makati City, along with their families: oiler Danilo Antonio (20 Years), bosun Jaime Bragat (20), oiler Romeo Escritor (22), bosun Cirilo Briana (22), fitter Vivencio Manalo (22), oiler Ricardo Bolo Jr (22), chief cook Dante Ligo (22), bosun Rolie Diopenes (23), able bodied seaman Rudy Murillo (24), and oiler Romeo Patano (25).
While several of these crew took early retirement in 2019 because of the pandemic, all had a fulfilling life and tenure as Döhle seafarers. They were expressively grateful for the opportunity to work with the group that gave them stable employment and allowed them to provide for their families, send their children to school, invest in properties, and, to some, explore and establish business ventures.
Ligo joined the Döhle fleet in 1996 as an able bodied seaman. After several contracts and as pre-employment medical examinations tightened, however, he was found color blind and unfit to continue his work at sea which included navigational watch.
He did not lose hope and decided to apply and restart his career at sea as a mess man. He eventually got his medical clearance and continued working with Döhle. After seven contracts, intending to progress his career, he wrote a letter to the Döhle Group in Germany asking for a chance to be promoted to chief cook, to which it responded favorably.
As a new chief cook back then, Ligo said that he would regularly bring volumes of cookbooks and self-studied recipes to his crewmate's liking. Fourteen years later, he happily and with chin held high retired as an excellent chief cook.
The Döhle Group has been employing Filipino seafarers since 1982, starting from being a principal (shipowner) to its first local manning partner to Midocean Phils. in 1987 where Döhle was the primary principal. Its ships then migrated to Dohle-Philman Manning Agency Inc. before finally establishing its premier Philippine manning arm Döhle Seafront Crewing (Manila) Inc. in 2009.
The retirees witnessed the trust that Döhle Group had given its Filipino partners throughout the changing times.
Döhle Group's heads, executives and colleagues from Hamburg, Germany remotely joined the retirees at the celebration online. They were joined by the Döhle Seafront Board of Directors Tore Henriksen, Cesar Drilon and Capt. Mayronilo Padiz.
The retirees who were present received tokens, gifts and compliments from the Döhle Group and Döhle Seafront's local partners BDO, Berjaya Hotel and Windsor Medical Clinic.