ICMA gathers intl seafarer volunteers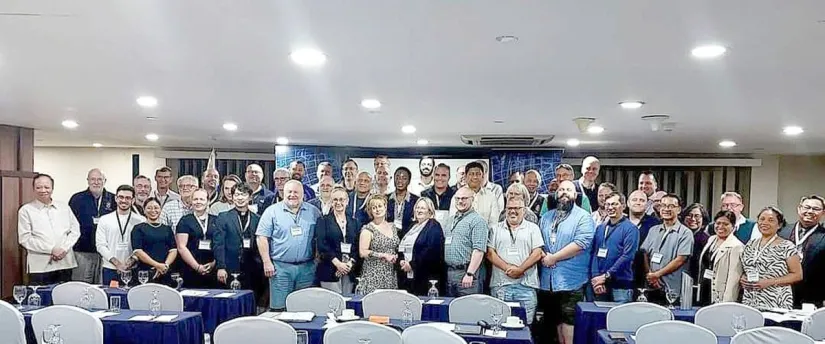 As posted by The Manila Times on February 22, 2023
THE International Christian Maritime Association (ICMA) brings an international audience of seafarer welfare volunteers to the Philippines for its Ahoy Training, a course that is designed to help chaplains and ship visitors better understand Philippine life and culture to better serve its seafarers.
Participants flew in from the United States, Europe, Australia, New Zealand and South Africa, all of whom are new chaplains, non-ordained volunteers and leaders of international seafarer welfare groups whose lives are dedicated to boarding ships to assist the seafarers.
The seminar started on February 20 with lectures given by seasoned historians, government representatives and maritime stakeholders. This includes Damon Woods, a historian and author best known for his works on early Philippine history; Maragtas Amante, faculty member of the School of Labor and Industrial relations of the University of the Philippines; Assistant Secretary Jerome Pampolina of the Department of Migrant Workers; Jun Pablo, regional manager of Iswan; Bishop Pablo David, president of the Catholic Bishops Conference of the Philippines; and lawyers Dennis Gorecho and Iris Baguilat, the latter serving president of Döhle Seafront Crewing (Manila) Inc.
Topics were "The Philippines as a Maritime Nation," "Understanding the Philippines' Migration Story," "How the Philippines Became a Seafaring Nation," "How the Philippine Government Supports Seafarers," "Understanding the Key Stories of Filipino Seafarers," and "The Work of the International Seafarers' Welfare and Assistance Network (Iswan)."
Other lectures include "Opportunities for Providing Pastoral Care to Filipino Seafarers," "Best Practices for Cross-Cultural Ministry," and "Advocacy Issues of Filipino Seafarers."
The week-long training will also expose the volunteers to Philippine culture through a tour around the historic Intramuros and the busy locality of Quiapo. They will also interact with Filipino seafarers and their families at the Associated Marine Officers' and Seamen's Union Of The Philippines building in Intramuros.
The participants will visit the training facilities and ship simulators of the Philippine Transmarine Carriers in Makati, the Manila International Seafarers' Center, and the Stella Maris-Manila.
ICMA is an international association of nonprofit organizations working for the welfare of seafarers around the world. Founded in 1969, its members represent Christian churches and communities. Some of them work from seafarers' centers while others sail with seafarers on ships. It provides networking and training for new chaplains, ship visitors, and volunteers and advocates for seafarers' welfare.
It is led by its general secretary, Jason Zuidema, a Canadian seafarers' welfare leader. He is also the executive director of the North American Maritime Ministry Association.
"ICMA and its members rise to the challenge of being the voice of seafarers and being heard by local and international authorities.
"It is a privilege and responsibility to listen to them and amplify what is being said so that those in positions of authority might hear it to drive change," he said.
https://www.manilatimes.net/2023/02/22/business/maritime/icma-gathers-intl-seafarer-volunteers/1879680