NordCham releases book on sustainability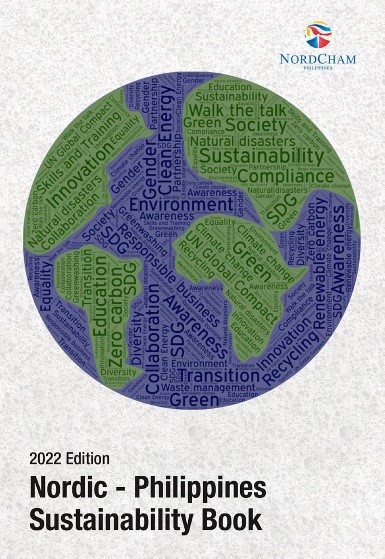 As published by The Manila Times on November 05, 2022
The Nordic Chamber of Commerce of the Philippines (NordCham) has released a book that shows the sustainability efforts of the group's business partners, as well as the embassies of the four Nordic countries (Finland, Norway, Denmark and Sweden).
The Nordic-Philippines Sustainability Book was launched on Thursday by NordCham during the Nordic Ambassadors Forum at the Dusit Thani Hotel in Makati City.
"Sustainability has been a challenge, objective and opportunity for the mankind for decades. Now, it is high time for action," wrote Finland Ambassador to the Philippines Juha Pyykkö in the book. "Sustainability, living economically, ecologically and socially harmoniously has entailed a loud call for action in a long time."
Pyykkö cited the 17 Sustainable Development Goals (SDGs) set by the United Nations in 2015, in which he was involved on behalf of Finland's Ministry of Foreign Affairs.
"Sustainability and inclusive growth have been at the forefront of the development agenda not only in Sweden but also in the Philippines with concepts such as responsible supply chains, human rights, due diligence, responsible finance and sustainability reporting increasingly entering mainstream business conversations," wrote Sweden Ambassador Annika Thunborg to the Philippines in her remarks in the book.
For his part, Norway Ambassador to the Philippines Christian Halaas Lyster said, "Private companies have a great impact on the environment, society and individuals. Critical to the achievement of the sustainable development goals is therefore to bring the private sector on board, including members of NordCham."
The business partners of Nordcham are ABB, Antrak Logistics, Arla, AstraZeneca, BDO, Bank of the Philippine Islands, Crazy Mens Club, Converge ICT, Döhle Seafront, First Gen, FL Smidth, Ikea, In1go, KPMG, Niras, Novo Nordisk, SN Aboitiz and Stratcon.ph. Each business partner described their work and plans under the SDGs in the book.