Seafarer rediscovers love for art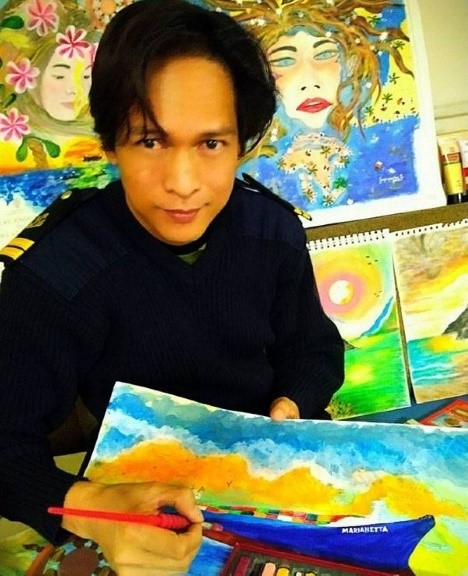 As published by The Manila Times on September 28, 2022
Filipino seafarers who were caught in the middle of the crew change crisis in 2020 have found themselves stuck for extended periods at sea, at home, in the city and in quarantine facilities. The monotony of idleness and uncertainty took its toll on people used to the hustle and bustle of shipping.
Some wallowed in misery, others explored new livelihoods, and some discovered a new passion.
Among them was Jorge Fuedan Jr., a seafarer by profession and a painter by passion.
Unlike many artists, Fuedan only discovered his love for painting in the solitude and silence of a quarantine facility.
"We were required to be quarantined before joining a ship. What was supposed to be a week of isolation became two weeks until I found myself in a small room spending my birthday, Christmas and New Year's Day alone," Fuedan recalled.
The stillness led him to convey his thoughts and emotions in art form.
"I found myself sketching. I used to do this when I was young, but I guess the obligations and realities of adulthood rubbed out my penchant for art. I thought it was a love lost in time," he said.
The moment he started, however, there was no more turning back.
"I have painted a lot during my pre-deployment quarantine. Many of these were bought by friends in and out of the maritime sector. Later, I explored with pastels and acrylic paints," he said.
Fuedan's canvass has since been filled with seascapes, sunrises and sunsets — things that stirred his soul while at sea.
"Painting during my free time relaxes me mentally, physically and emotionally after a hard day's job at sea. My cabin looks like a gallery already," Fuedan said. His creative imagination and lithe hands led him to paint for Drybrush Gallery, an online gallery that showcases Filipino contemporary art by new and established Filipino artists. Some of its painters also support a charity that helps people affected by the Ukraine-Russian war.
"Right now, I am enjoying painting landscapes, seascapes, abstracts and charcoal sketches while still discovering what my 'signature art' is."
When asked what subject would best portray the Philippine maritime industry, Fuedan was quick to respond: "That would be the Filipino seafarer at work. He is a picture of strength, courage and determination. He smiles even after a hard job. He stays strong for his family. His might comes from a good heart and strong, fighting spirit. Such resilience defines our industry."
Fuedan is now onboard as a second mate for the manning agency Döhle-Seafront, a company he's been sailing with since 2006.
"Joining this company was not just luck; it was a stepping stone for multitudes of opportunities. I have met good people in the office and onboard, and it helped me reach where I am today. I would not have experienced a better life, the best view of sunsets and sunrises in the middle of the sea had it not been for Döhle-Seafront; they believed in what I can accomplish," the young Bicolano said.