Shortlisted nominees announced for the 2023 Crew Welfare Awards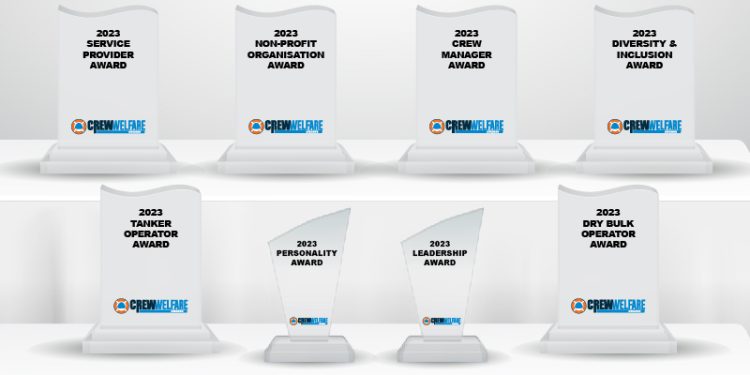 As posted by SAFETY4SEA on April 6,2023
SAFETY4SEA is pleased to announce the distinguished shortlisted nominees for this year's Crew Welfare Awards, following an online nomination process, initiated a few months ahead of the 2023 Crew Welfare Week, a virtual event that will take place 20-22 June.
These prestigious awards aim to recognize organizations within the maritime industry that foster Crew Wellbeing & Sustainable Shipping. The online voting process has started at https://crewwelfareweek.com/awards/ where participants can cast their votes online up to 5th of May 2023. The winners will be the ones attracted the most online votes and the results will be announced on day 1 of the event, on June 20th.
Nominations shortlisted for the 2023 Crew Welfare Awards include the following organizations per award category:
Crew Welfare Tanker Operator Award
To be awarded to any ship operator of oil or chemical tankers, or gas carriers that demonstrated Initiative, Best Practices and Excellence and in any aspect of crew welfare
Columbia Shipmanagement (CSM) has been nominated for investing in crew training to create a loyal and happy workforce, and boost their morale and wellbeing. In 2022, CSM signed agreement with the Nautilus Pacific Maritime Training Centre, Manila to be the exclusive training center for its seafarers in the Philippines.
Executive Ship Management Pte. Ltd. has been nominated for developing their people focusing on training, wellbeing and diversity. In collaboration with their group company, Samundra Institute of Maritime studies (SIMS), the company has been working towards recruiting and training more women to join the industry.
Fleet Management has been nominated for putting people at the center of their sustainability strategy. With a community of more than 24,000 seafarers and 1,000 shore-based professionals, the company is focused on supporting development of their people and creating an inclusive and supportive working environment.
Thome Ship Management has been nominated for implementing several innovations in terms of crew welfare., such as privileged Card, on-line gathering of onboard and on vacation crew, family involvement with the company through wives' association and inclusion of HMO (health care) benefit to the families of active seafarers.
Wilhelmsen Ship Management has been nominated for being leader in the crew management field, putting crew welfare at the forefront of onboard worker needs, retention and reward, whilst focusing on diversity and inclusion, mental health and wrapping seafarers into the organisation's community delivering on customer and worker goals.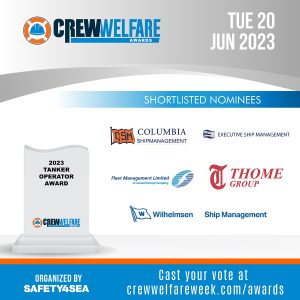 Crew Welfare Dry Bulk Operator Award
To be awarded to any ship operator of bulk carriers, or general dry cargo vessels that demonstrated Initiative, Best Practices and Excellence in any aspect of crew welfare
Berge Bulk Maritime Pte Ltd has been nominated for being committed and dedicated to crew wellness and crew welfare. Among many initiatives, the company has developed an in-house program for all seafarers to talk about mental health issues, incorporating trained psychological first aiders who are trained on Psychological First Aid (PFA).
Oldendorff Carriers has been nominated for taking many initiatives for improving seafarers' welfare such as improved wage scales, ensuring timely crew change, onboard crew welfare budget (for realistic use), free 4 GB internet and relatively cheaper additional internet vouchers, crew training and promotional scheme for talented officer candidates.
OSM Maritime Shipmanagement (Dry) Pte. Ltd. has been nominated for supporting a diverse fleet, focusing their strategy on the quality of their crew end-to-end to provide equality and ethics. The company also supports the Universal Declaration of Human Rights to respect human rights and protect employees against human rights abuse.
Synergy Marine Group has been nominated for focusing on welfare and diversity on its strategy. Among other initiatives, the company provides tailor-made Personal Protective Equipment (PPE) to female seafarers designed by textile engineers in conjunction with female seafarers and maritime safety experts to ensure comfort and versatility.
Wallem Group has been nominated for embracing digital solutions and putting the welfare of Wallem seafarers at the center of its safety culture, having the right tools and training to empower people and provide them equal opportunities in an inclusive working environment.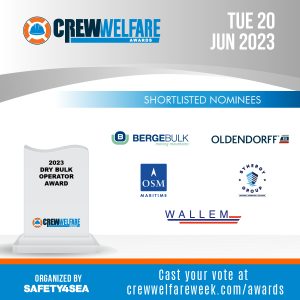 Crew Welfare Crew Manager Award
To be awarded to any crew management company that demonstrated Initiative, Best Practices and Excellence and in any aspect of crew welfare
Döhle Seafront Crewing (Manila), Inc. has been nominated for focusing on training and crew development. The company has an in-house training center providing training programs and conducting seminars that empower seafarers and their families, covering financial management, character building, and parenting, among others.
Elvictor Group Inc. has been nominated for providing quality crew manning services being historically the first crew management company to enter the Stock Market and among the pioneers to start their digitalization journey in early 00's. Its technological disruptive Crew Management & Manning Philosophy is based on transparency & proactiveness.
Global Seaways has been nominated for providing quality Crew Management, Manning and Training Services. As part of company's expansion strategy, in 2022 Global Seaways acquired the IPPOKRATIS DIAGNOSTIC SERVICES CENTER which is a diagnostic center in Manila to offer a variety of medical services, PEME Packages, dental & other services.
Magsaysay has been nominated for championing crew welfare for decades through different initiatives and best practices. As a top maritime manning company in the Philippines, it has spearheaded many initiatives that prioritize seafarers' and employees' well-being, comfortable life, and extending help to the communities.
Philippine Transmarine Carriers Inc. has been nominated for launching the project RISE (Resiliency Improvement Support and Education) with the aim to help enhance the overall level of resiliency and disaster response preparedness among communities in the Philippines.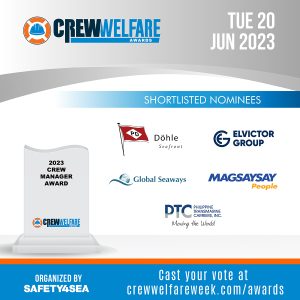 Crew Welfare Service Provider Award
To be awarded to any Service provider that delivered service which contributes towards improving crew welfare
GAC has been nominated for providing a vital lifeline for crew during challenging times. In particular, at the peak of COVID-19 pandemic, GAC leveraged its global network and expertise to provide vessel owners, operators and managers with tools, resources and knowledge to protect crew on board while complying with changing regulations.
IMEQ Center has been nominated for promoting well-being in the workplace, by providing psychometric testing, trainings, consulting services and an innovative well-being guidance standard for the maritime industry. The company also offers a fully automated psychometric testing platform to safeguard seafarers' psychological health and safety.
Inmarsat has been nominated for its Fleet Hotspot, powered by Fleet Xpress, that allows crew to use their personal devices to stay connected, update skills and enjoy online entertainment. It works independently from general vessel bandwidth, enabling seafarers to have control of their internet accounts, manage data use and check purchase history.
Kyvernitis Travel Group has been nominated for providing travel expertise to shipping companies to get their crew members safely, on time, and on budget anywhere around the world. Kyvernitis Crew Travel department serves the largest number of shipping companies in Greece, as well as some of many on an international level.
OneCare Solutions has been nominated for offering seafarers 360° support and advice for all their health and well-being needs, through its affordable and tailored digital platform. It addresses the full spectrum of seafarer health and well-being with 24/7 direct access to medical expertise and mental health support., featuring a 24/7 support.
VIKAND has been nominated for establishing a telemedicine service that uses minimal bandwidth, high-quality video communications, phone calls, chat functions, enabling medical advisors to connect with ships' crews in an instant to diagnose patients before recommending a treatment plan based on their specific condition or health concern.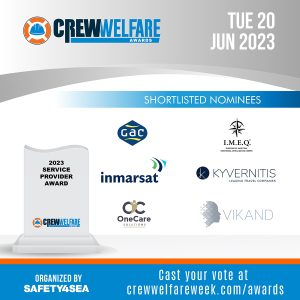 Crew Welfare Non- Profit Organisation Award
To be awarded to any non-profit organization or association that planned, promoted and delivered any program fostering crew welfare with tangible results
ISWAN (International Seafarers' Welfare and Assistance Network) has been nominated for highlighting abuse, bullying, harassment and discrimination as an important area for attention on World Mental Health Day in October 2022, and working with partners from across the sector to develop a new project to address these important issues.
Sailors' Society has been nominated for its WellnessAtSea program which is a pioneering training and support programme, combining 200 years of maritime welfare experience with psychological expertise to empower seafarers at all ranks to look after their own and others' wellbeing.
Seafarers Hospital Society has been nominated for launching research with Yale University and Lloyd's Register Foundation, calling on shipping companies to develop a culture of care and investigating the effectiveness of the various initiatives taken for seafarers' health and safety.
Stella Maris has been nominated for their successful intervention in several cases in which seafarers were denied access to shore leave, supporting that industry needs to give priority to shore leave for seafarers in the post-COVID era. This is a key issue not only for seafarers' health but also for their recruitment and retention.
The Mission to Seafarers has been nominated for launching the 'SafeTALK program' which is a comprehensive suicide prevention program, being instrumental in promoting the welfare of seafarers, and training Port Chaplains and volunteers as Suicide Alert Helpers. The program includes a maritime-specific SafeTALK training course and workshops, providing comprehensive suicide prevention support to seafarers.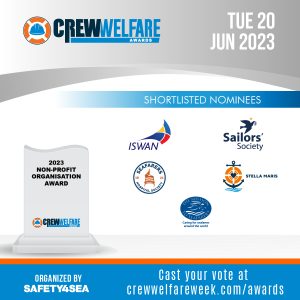 Crew Welfare Diversity & Inclusion Award
To be awarded to any organization that planned/delivered a program or promoted in any way the Diversity & Inclusion agenda
Image Line Communications Ltd has been nominated for offering free resources associated with Diversity and Inclusion to assist companies in demonstrating their commitment towards. The company has also been the lead agency of the ECSA-ETF WESS project that encourages women into a rewarding and safe career in shipping.
IMO-WISTA Maritime Speakers Bureau has been nominated for providing a platform with the intention to end the tradition of all-male speaking panels at international conferences. The platform offers opportunity to women in maritime to participate in panels and to event organizers the tools to make their panels more inclusive, diverse and interesting.
International Chamber of Shipping has been nominated for developing a three-pillar framework to help create inclusive employment in shipping and inspire change in industry's strategies. The framework consists of: the ICS Diversity Tracker; ICS Maritime Diversity and Inclusion Charter and; the ICS Diversity and Inclusion Toolkit for Shipping.
Mental Health Support Solutions has been nominated for embracing Diversity and Inclusion with the implementation of programs that actively provide training to help both seafarers and personnel ashore to recognize, accept, and value differences based on ethnicity, gender, age, race, religion, disability, and sexual orientation.
The Seafarers' Charity has been nominated for focusing on the welfare needs of women working on cargo ships. The organization funded pioneering research on women seafarers' concerns about their personal safety, their feelings of fear and isolation and the fundamental lack of practical facilities to support menstruation.
Crew Welfare Personality & Leadership Awards
There are no nominees shortlisted for this Award. After consideration and review of a list of "Editor's Pick" nominees, the SAFETY4SEA Team will announce the winners during the awards presentation. These are special category awards for any individual person that provided industry leadership and contributed towards crew welfare excellence throughout his/her career.