Manning Agencies Induction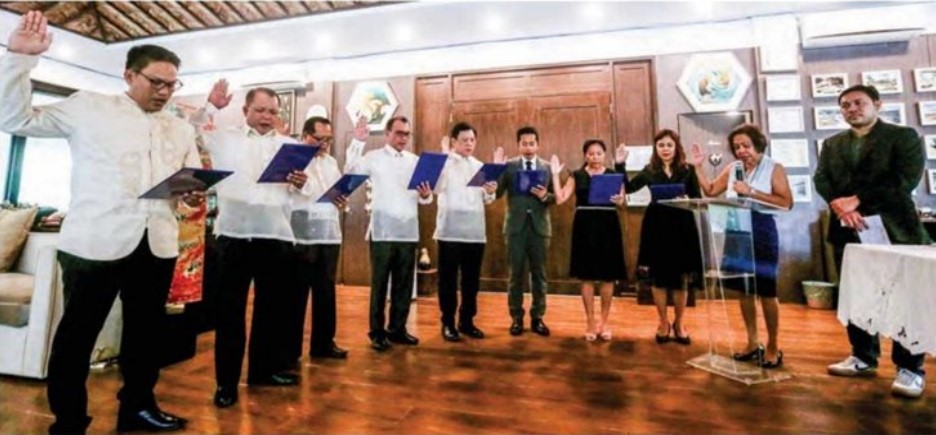 As published by the Manila Bulletin Sunday on January 15, 2023
MANNING AGENCIES INDUCTION – Sen. Cynthia Villar (second from right) and Sen. Mark Villar (right) administer the oath of the newly elected
Board of Trustees of the Association of Licensed Manning Agencies (ALMA) on Friday, Jan. 13,2023 at the Villar SIPAG farm house: lawyer
Iris Baguilat, ALMA chairperson, DohleSeafront Crewing Manila Inc. president (third from right); Maria Cristina Garcia, ALMA president, Blue
Ocean Marine and Offshore Solutions Inc. president; CE Jean Vincent Abobo, Solstad Offshore Crewing Services Philippines Inc. president
and general manager; Capt. Antonio Ladera III, ALMA vice president, Kestrel Shipping Inc. president; CE Jessie Rex Martin, ALMA treasurer,
Anglo­Eastern Crew Management Philippines; Capt. Leopoldo Tenorio, Marlow Navigation Phils. Inc. CEO Operations; Capt. Jose Remo Librodo,
Next Wave Maritime Management Inc. president and CEO; and Capt. Gregory Nick Sevilla, Avior Marine Inc. president and managing director.
ALMA is an association of 68 manning agencies engaged in the deployment of 170,000 Filipino seafarers to international merchant ships at any given time. (Ali Vicoy)